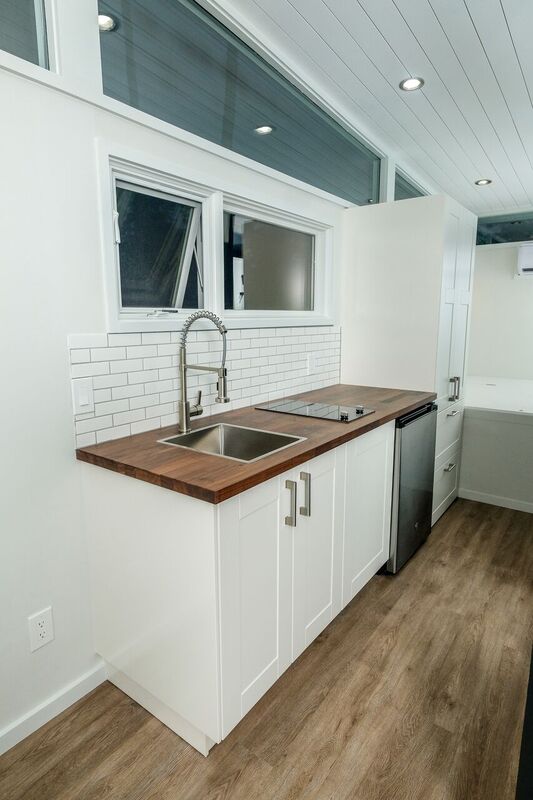 custom interiors & designers furniture elements
We strive to ensure creative options, improved functionality and optimizing space within every inch of your Tiny Home selection.
House Plans
The large windows in the living area and high transom glass at both ends of the structure provide an unparalleled view of nature and floods the space with natural light. With specially engineered vaulted ceilings, you won't feel confined by its walls like in most tiny homes and RV's when in this space. Instead, you will become part of your surroundings.
Doing More With Less
Touch of perfection
Affordable
Many people are choosing to live in tiny homes because they are affordable, use less energy than traditional homes, require less maintenance, are efficient, easy to clean and can be moved around. With a wide range of affordable platforms, you'll be able to find the right home for you at the right price.
Fully Customizable
Each custom Box Haus Tiny Home is a unique and custom creation in itself. But it goes far past the aesthetic design. The quality of construction is equally, if not more, important to us as the design and overall look of all our custom tiny homes. From the way we build it to the construction materials we use, we go above and beyond to ensure that each Box Haus Tiny Home is second to none.
Original Designs
We design and craft custom tiny homes of the highest quality and aesthetic that reflect the lives of those who call them home. We can build from pre-existing plans (ours and those found elsewhere), or desigh a completely custom home based on your napkin sketches.
Sustainability
Lessening your footprint goes beyond physical square footage. Going 'off-grid' electrically has more than one benefit that any ecological individual should consider. Financial savings, energy independence and benefiting the environment to name a few.
Delivery
We currently have the capability to deliver most tiny houses on wheels within The United States of America.  If you need your tiny house delivered further than this, we can meet you partway or arrange for a freight company to deliver your tiny house anywhere.  Your tiny will be fully insured and moved by a professional who has extensive experience moving tiny houses.  As the industry continues to grow, there will be more and more transport companies coming online to transport tiny houses and hopefully transport fees will become more competitive as this takes place.
About
Since 2004 Boxhaus design has offered innovative, site specific architectural designs that respects the environment and our individual client need. Our intuitive, concept driven approach to architecture utilizes radically simplified forms that express the essence of the individual building component. As the great masters before us, and in keeping with the Bauhaus movement, that our name infers, we respect both art and craft and remain responsive to changing technologies, materials and social conditions